CoverageFirst is an independent, online wholesale insurance marketplace, serving more than 7,000 independent agencies and brokerages. CoverageFirst helps these agencies find and access the P&C insurance products they need for their clients. Using self-developed proprietary technology, like its CoveragePro Market Placement System, CoverageFirst has assisted in the placement of more than 10,000 individual risks.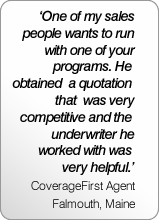 CoverageFirst dramatically improves the efficiency of the wholesale commercial insurance submission, underwriting, quoting and purchasing process. CoverageFirst utilizes Internet technology to create a highly intelligent and productive network that allows users to collaborate on all required information related to placing and transacting commercial insurance risks.
CoverageFirst essentially aggregates both sides of the industry (buyers and sellers) and then brings them together, creating a virtual marketplace and adding content, tools, resources, and new technologies to create a single, highly concentrated hub of opportunities, competition and empowerment. This structural model helps participants transact business rapidly, accurately, and economically. By utilizing this model, CoverageFirst acts as a catalyst for creating opportunities for buyers and sellers of wholesale insurance products.
Sellers of insurance products spend as much as 30% of their premium base to acquire and motivate their agency forces. Building a meaningful and loyal base of sub-agents typically takes many years to accomplish. For start-up providers, this is the biggest obstacle to overcome. The agency side is just as frustrating. Staying up-to-date and informed about where to obtain various products is practically impossible. Even if an agency is fully informed about where to obtain any given product, the chances of it securing an appointment with every possible solution provider is virtually nil. And, the smaller an agency is, the fewer appointments it will likely be able to secure. This puts smaller agencies at a serious competitive disadvantage versus larger agencies that can secure more appointments.
CoverageFirst will solve these problems and add value to all participants in the insurance transaction by increasing the effectiveness and productivity of both sellers and buyers of insurance products. CoverageFirst adds value to participating agents by providing them with broader, more efficient access to insurance markets, by empowering them with collective purchasing power and by assisting them in harnessing the technological efficiencies inherent in Web-enabled communications tools. CoverageFirst adds value to participating MGAs, MGUs and insurers by providing them with a safe, highly efficient and broad-based distribution channel (in the form of thousands of pre-approved sub-agents), and by assisting them in finding and developing more powerful and efficient quoting, rating and issuance technology.